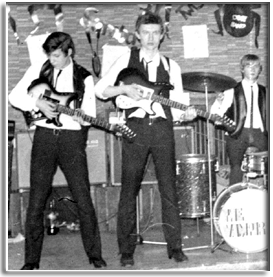 This site was designed to keep awake the memories of the beat bands that were active in Kaiserslautern in the Sixties of the last century. There were innumerous bands and places, musicians and dilletants, employers and fans that determined the dancing scene in K-town and the surrounding villages before discotheks took over. This site is supposed to create a forum keeping alive the memories of these times by collecting relevant information and contributions. The generation that gave life to the music of the Sixties (Rock n Roll, Beat, Rhythm & Blues, The British), either actively by playing it or passively by listening to it, is starting to leave the scene forever. Therefore, an urgent pressure exists to save eye and ear witness records for the generations to come (so much for pathos!). The site is reserved for amateurs, and amateurs sometimes were musicians who had their regular jobs during the day and played their music every night.






Select a band from the list for more details. If you were a member of one of these bands or have any information to add to our forum, write to us and we'll post your comments on the site!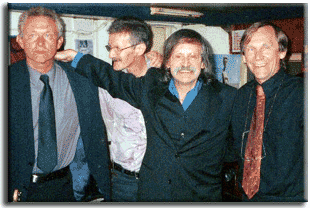 Some of the band members today. , From left to right, Walter Heinz ("Dave"), Hans-Werner Höhn ("Andy"), Dieter Fohr ("Diego"), and Peter Glanzmann ("Buster").